November 5th, 2014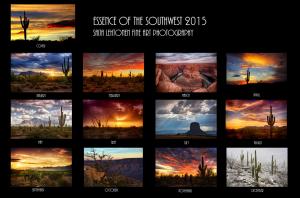 Don't miss out!!

As promised, my 2015 custom wall calendars are now available to order!

2015 "Essence of the Southwest" Calendars….

There will be a limited printing run of this calendar. It is only available by ordering it directly from me and you won't find it anywhere else. This makes a great Christmas gift for family, friends, yourself or anyone that loves the southwest!

This is a 12 month, 11" x 8.5" spiral-bound calendar featuring a variety of desert southwest images for 2015. The calendar is standard in size 11" x 8.5" and measures 11" x 17" when (opened/two-pages). Images will be framed with a black border and printing is high quality full color on a luxurious premium stock. I always upgrade the paper stock to assure a beautiful and lasting print. You can expect vibrant colors, an extra shine and a high quality look and feel to the calendars.

Place your order now to receive in time for Christmas!

$20 each + shipping
$5.00 total shipping for 1-3 calendars, $12.00 total shipping for 4 or more calendars.

To place an order, please send me a private message or e-mail me at saijalphotography@ymail.com. Please include how many calendars you would like to order and your e-mail address. I will then send you an invoice through PayPal for the calendars, which can be paid online.

If you have any questions before ordering, please don't hesitate to ask.

Thank you all so much for your continued support of my work!